Nestled insi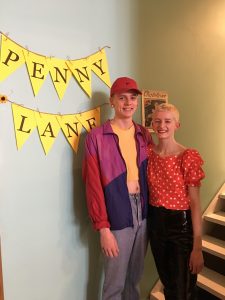 de Dwell Urban Boutique, you'll find the adorably stylish creation of two young entrepreneurs, Noah and Sophie. Penny Lane Clothing Co carries a curated selection of second hand and vintage clothing and accessories. Think Kensington Market style in downtown Ingersoll- we love it! The young business duo is bringing high quality, eclectic fashion to the people of rural Oxford. They pride themselves on practical pieces for everyday wear AND the once in a lifetime finds that make a statement.
Noah and Sophie have always had a love for fashion, but it wasn't something they always thought about doing as a career. In fact, Sophie was enrolled in an Outdoor Adventure Education program at college last fall when the strike through her plans for a loop. "I found I was spending more time thinking about my outfits and shopping for fun new pieces than about packing for the learning trips we went on," Sophie explains. When the strike ended, she opted not to return to her program and re-evaluate her plan. In the meantime, she took a job at Jakeman's Maple Syrup where she met Noah.
Sophie and Noah named their business after The Beatles song Penny Lane. John Lennon wrote the song while waiting at a bus stop- he was simply taking the time to intentionally take note of and enjoy his surroundings. The Penny Lane Clothing Co partners live this philosophy through their life and business; they choose to enjoy the present moments and are concerned about building fulfilling life. They hope that the bright, colourful and carefree-feel of the pieces they tend to choose reflect that.
"We both have an eye for finding great stuff, but realistically we can wear or buy everything we find. That's when we decided to work with the idea of curating and selling what we bought," Noah says.  It was overwhelming at first, but luckily, they had the support of local shop owner, Lisa Dube. She encouraged them to think through their idea and offered them some space in her shop if they were ready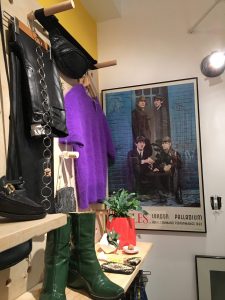 to put their idea out there.
They officially opened within the Dwell Urban Boutique in May 2018 and have been thrilled with the reaction. They're already thinking about how to grow the business into a larger shop, travelling boutique or music festival vendor. Since opening in the boutique, Penny Lane Clothing Co has already begun to sell online through Depop.
Noah and Sophie are committed and inspired to succeed as entrepreneurs. Please join Community Futures Oxford in congratulating them on the launch of their business and please support them by stopping into the shop to say hello! The stock is small and changes over every weekend so you'll always find something new. You can browse and purchase during any of Dwell's business hours, but if you want to meet Sophie and Noah you can find them in the shop on Sundays.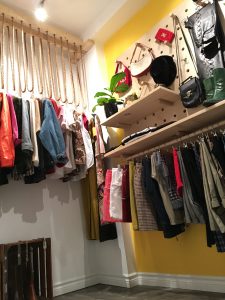 Visit the Penny Lane Clothing Co collection at:
147 Thames Street South Ingersoll, ON
@pennylaneclothingco