With Valentine's Day just around the corner, February is a month that brings upon tender feelings of love and sentiment about the important things in life. On a personal level this includes my family, partner, friends, dogs… and professionally, it's the other love of my life; my business. As Creative Director of Luxe Creative, a local web & graphic agency that helps small business owners stand out, I am very passionate about helping my clients build a brand they can love forever.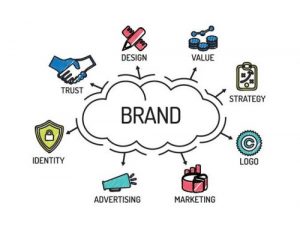 The goal of this article, or better yet- self-professed branding love letter, is to discuss the importance of key messaging, what it is and how it provides consistency and brand recognition.
As an avid theatre goer, one of my favourite Shakespearean productions is Romeo and Juliet. It's a timeless love story that never goes out of style. There is a popular reference in the play where Juliet questions, "What's in a name? A rose by any other name would smell as sweet". She argues that it does not matter that Romeo is from her family's rival house of Montague. While that may be true, Juliet, let me tell you…
What's in a (brand) name? Everything. In the ever-changing times we live in, you want your brand to be seen, heard, and remembered.  Maintaining a consistent brand is one of the single most important aspects for a business. When we are introduced to a person (or company) for the first time, the first piece of information we gather is their name. Like your name, your brand tells people who you are; who you want to be and who people perceive you to be.
Having an effective brand strategy is what makes you stand out in your local market. Maintaining its consistency builds trust, and lets your customers know what they can expect from you. So whether you are a new startup entrepreneur or a seasoned business owner, here are two simple 'star-crossed' tips to consider when building a brand. Especially one that your customers will hopefully express their undying devotion to.
Logo Design: Identify your company name, its values and keep them in mind when creating a unique logo. Your logo is a visual representation of your business which, along with your company's name, is one of the main things that makes your business memorable. I might be biased but consider hiring a professional to ensure your logo is done correctly the first time. One that you won't want to change every year. Then once it's perfected, get it in all formats and place it everywhere! With that said, if you don't currently have a strong logo, it's never too late to get one now and refresh your image.
Key Messaging: Create an emotional connection when developing your slogan and advertising content. Along with visuals, keeping your language consistent is essential for your business. Capturing your customers' attention will help build their loyalty. The message you are portraying is what potential and current customers are hearing when they see or think about your brand. To attract your target audience, research their personalities and use a language style that appeals to them. Paying attention to this detail will send the right messages about your brand and help grow your sales. On average, it takes five to seven times for a person to recognize your brand. They'll remember your font usage, the colours you chose, and the tone of voice used to convey your message. Being authentic and speaking to the intended demographic can make your brand's identity strong and successful.
Customers will expect their experience with your brand to be consistent across all devices and channels. With our digital world today more people are on smartphones, so your social media presence and website are just as important when showing your customers who you are. In fact, customers are more likely to search for you online before going to your business. Once they obtain the first impression of your brand, they'll want to see the same thing in person. If the identity is not equivalent between your social media pages and storefront, customers are not likely to trust you.
Consistency and brand recognition are necessary in marketing because they make the most valuable asset – your customers, remember. Their brains retain an image of your business branding whether their subconscious knows it or not. Trust will be built, customers will know who you are, and they'll continue doing business with you.
So I'll ask you this question again. What's in YOUR brand?
Sincerely spreading love and brands,
Rachel Palach
CFO Board Member, Small Business Owner + Marketing & Communications Specialist