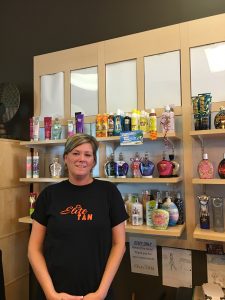 When Sherri was just 25 years old, she worked full-time nights at a factory in Guelph. As things slowed down at the factory she found herself job sharing and was eventually laid off. Along the way, Sherri began working part-time at a tanning salon. Instantly loving the atmosphere and the interaction she had with the customers, she fell in love with the industry and had dreams of one day owning her own tanning salon. Years later and in a new town, Sherri was given the opportunity to purchase the business she was employed by, a tanning studio then known as Tanners Studio. After looking at her options, she realized that traditional financing through a bank just wasn't a viable option. "This is so common," says Luigi Basacco, Business and Loans Consultant with Community Futures Oxford, "when someone is purchasing a business, the banks often view the application as a brand new business even if it's been in operation for years. That can make it tough for some entrepreneurs to secure the financing to purchase a business."
Sherri worked closely with Luigi over the phone, e-mail and in person not only to help her with the financing options, but also support her through the process of purchasing the business. Sherri is so gracious to say that without the financing from Community Futures Oxford and the support offered along with it, purchasing the business just couldn't have happened. "Taking that leap [to own a business] is such a scary process and owning one- it's still scary! But I'm doing what I love and it doesn't even feel like work." With the help of the Community Futures Oxford's small business loan, Sherri was able to achieve her dream of owning a tanning salon.
After officially taking ownership in November 2017, Sherri has seen an increase in clients and product sales from the same time a year ago and it's easy to see why. Sherri knows everyone who comes into the salon by name and takes great pride in the facility; it's absolutely spotless. She asks that you leave your shoes at the door to ensure the cleanliness and hygiene of the building and its equipment.
Sherri, new owner of Elite Tan in Ingersoll, is a true entrepreneur success story. With the help of CFO's small business loan, Sherri was able to achieve her dream of employee to business owner.